Beaches
La Zenia beach one of the largest here. It is located to the north of Orihuela. The coast extends for 360 metres in length and 115 metres in width. Services: there is a nice mini-bar,  as well as rent chaises longues with umbrellas.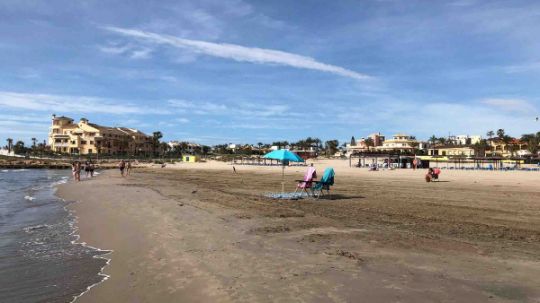 Places to chill
La Glea beach
Playa de La Glea on Costa Blanca lies to the south of Torrevieja. The beach is characterised by a well-developed infrastructure that facilitates having a great rest. For those visitors, who come by car, there is a parking lot near the sea. In the northern side of the coast, there is a nice playgraund for children, where they can shin up and have fun. And if you want to have a lunch or to try Spanish cuisine, there is an admirable 
Av. de las Adelfas, 15, 03189 Orihuela, Alicante, Spain 

Comfortable recreation
Cala Capitan
Playa Cala Capitan is situated between the districts called La Zenia and Cabo Roig and is located at some distance from noisy roads, so that's a quiet and comfortable recreation zone. It is the second biggest seaside here. Its length is 157 m., its width reaches 85 m.. 
For the clients, there is everything you may need: bar, palm-umbrellas, sunbeds, toilet. 
Orihuela Calle Cala Capitán C Rg, 11, 03189, Alicante, Spain 
Gold Coast
Mil Palmeras
Mil Palmeras is located 7 km away from central La Zenia in Mil P Vistamar sector, Orihuela, Alicante. The length of the coast reaches 130 metres, width — 45 m. 
Beautifull sandy beach, there is everything one may need to have a proper rest: sun-furniture, a sport area, 2 bars which works all day long. Near the seacoast, there is a large parking lot, where you can leave your car. 
Calle Dinamarca, 296, 03191 Mil Palmeras, Alicante, Spain 

Cosy Bay
Cabo Roig
This small and cosy bay is situated at the bottom of cliffs, that's why it is very calm and serene. It is pretty unlikely that you will see waves here, the sea is clean & smooth. The descent to the beach is soft and that is a great advantage for families with little kids and people with special needs. 
On the playa de Cabo itself, guests are offered chaises longues and sun tents. In case you feel hungry, you can have a snack in cafe During your resting in this place you will be able to view yachts at "Marina" pierce. Boat rental in Cabo Roig is the best variant to spend your time.  

THE BEST WEEKEND TRIPS FROM ORIHUELA
Travel