History and Traditions of Three Kings Day
On January 5, 2019, Valencia celebrated the annual Spanish festival – Three Kings' Day (Fiesta tres Reyes Magos). History and traditions. 
Here is a bit of history. Biblical Magi (also known as the Three Kings) brought gifts to Jesus as a sign of worship to the infant: they gave gold to worship him as a king, incense that personalized the priest, and myrrh, embalming material used by the ancient Israelis. Perhaps, this depicts death — the future atoning sacrifice of Christ. 
Many millennia on, paying tribute to this tradition, on the morning of the 6 th of January all Spanish children wake up, getting the presents. According to superstition, on the fifth of the first month of winter, the Three Kings, symbolizing different parts of the world, begin their journey through many countries from the East to Bethlehem. They were Balthazar, a dark-skinned young man who came from Africa, Melchor, a middle-aged European man, and Caspar, a grey-haired old man personifying Asia. 
Everyone, young and old, is getting ready for the celebration. The hosts are setting table, full of delicious treats, including the roscon de reyes, or kings' cake – the ring-shaped cream pastry, that looks like a doughnut. Sometimes, this cake could be enormous! Buried inside it is a coin or a toy, often a figurine of baby Jesus or a tiny king. The person who finds it in their piece is said to have good luck for the year. 
Children leave a clean pair of shoes outside their doors for the nocturnal visitors to fill with gifts. There is a belief: good kids get presents and bad kids are supposed to receive a lump of coal. On the Eve of the festival, it is customary to bless water and chalk, and decorate the front doors of the houses with the initials of the Tree Wise Men – C+M+B –to have good luck in many years. 
After lunch, people throng the streets to witness a unique experience – the Arrival of the Three Kings. They arrive with a traditional parade, starting at the port of the city and processing to the central square. Fanfare, music, a standing ovation signal the arrival of the cavalcade! This is not just a procession but a whole colourful costume show! There are many floats making up the procession. Here you can see: life-size puppets, aerialists, circus artists, imitations of huge animals, traveling scenes, various carriages (be it a football team or graduates of Hogwarts school).

>> Compare and book a hotel in Valencia with a discount and save up to 60% <<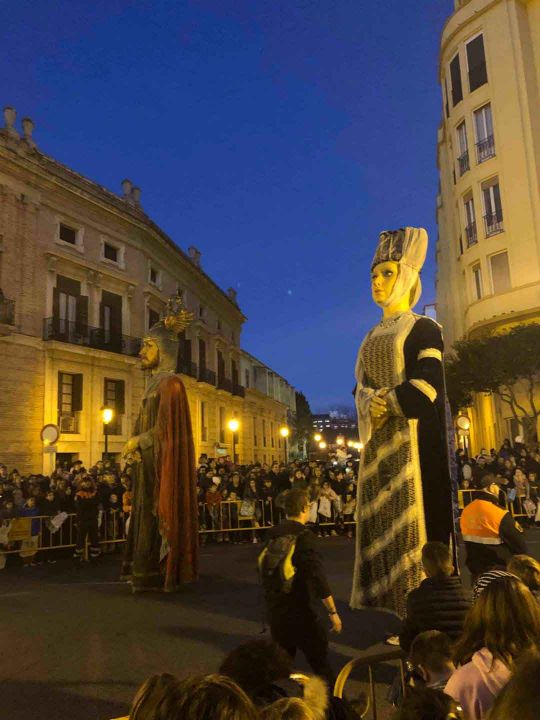 Photos and videos from day of kings in Spain
Look at the video, every participant in Three Kings parade sprinkles onlookers with balls, toys, scarves, tons of caramels. Adults again become teenagers, snatching sweets flying overhead. Nobody wants to leave with empty pockets! 
Some were lucky enough to sit on balconies, hang their bags open or flip ordinary umbrellas – these are all resourceful ideas, rewarded by a great catch!
It is equally interesting to observe the helpers of the Three Kings as fairies catch in their nets kids' Christmas letters to Santa Clause. The delight of the children has no limits! Where dreams come true!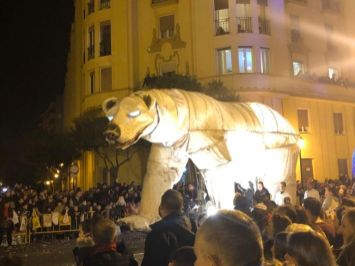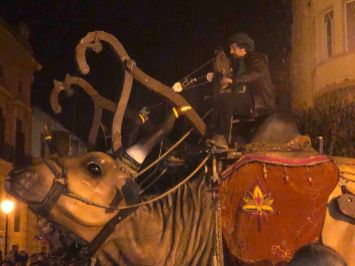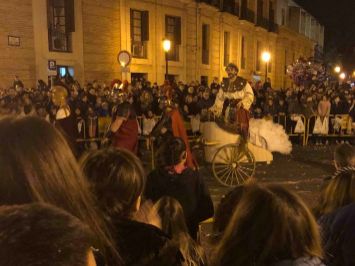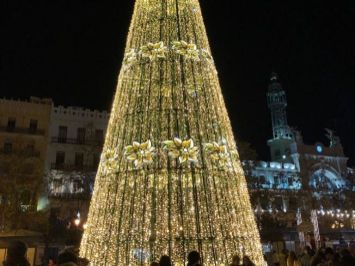 Christmas tree in Valencia
Tips for the Event:
lifehacks
 Our recommendation:
arrive well in advance for the parade to secure a good viewing place.
Wear comfortable clothes and shoes, you have to stand up for a long time! After the parade is over, there is a unique chance to stroll through the night city, enjoying a fabulous atmosphere.
Do not forget to bring your backpack or bag – you will need it to collect sweets and presents.  
Do not be shy! This is a unique opportunity to return to a carefree youth. When will you get another chance!? Do not be surprised to hear the wish: "Do not get coal in your stocking!"
 Merry Christmas and Happy New Year!